YJ Draiman
Candidate for Mayor of Los Angeles 2017



YJ Draiman for Mayor of Los Angeles - 2017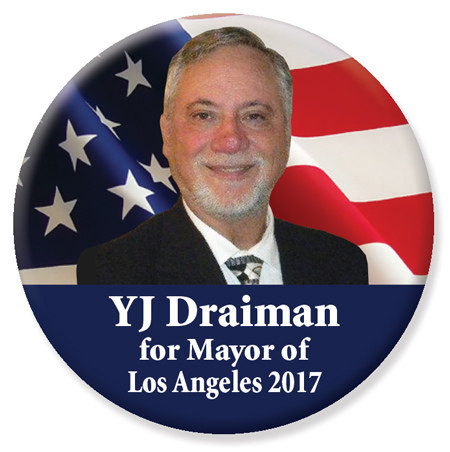 Los Angeles Elections 2017

YJ Draiman believes in principles and integrity over profit and personal gain
YJ Draiman is the fourth term lead elected official for the Northridge East Neighborhood Council – NENC, he is also the liaison between the NENC and LADWP. As an Energy Efficiency Advocate YJ Draiman is known for his advancement in implementing Energy efficiency, Renewable energy and Water conservation in the Los Angeles Area. YJ Draiman is promoting his platform of Made in America to bring back to the city of Los Angeles a strong industrial base, increase employment, strengthen education and reduce government and implement fiscal responsibility.
YJ Draiman ran for Los Angeles City Council in 2009. He was sworn in as an elected member of NENC, Los Angeles in April 2010 and was re-elected in 2012, 2014 and 2016 he also ran for Mayor in 2013. YJ Draiman brings to the NENC Office a unique combination of government, business and community leadership experience. He is also a member of The Northridge Vision Committee.
A recent ambitious goal by YJ Draiman is to create in Los Angeles an innovative renewable energy zone approach which will create tens of thousands of new jobs with billions in investments over the next 5-10 years.
YJ Draiman is a former Real Estate developer with over 25 year's experience; he has worked extensively in rehabbing neighborhoods. YJ Draiman has vast experience in the deregulation of Utilities and implementing energy and water conservation. He is an Energy Efficiency expert for over 25 years as well as an Alternative Energy authority and a Telecommunications auditor. YJ Draiman has been working in the Energy and the Utility markets for over 25 years. In January 1996 he was asked to run for U.S. Senate, but he declined. YJ Draiman is currently working on his PHD in energy conservation.

YJ Draiman participated with the Utility Commission in protecting citizens from increased tariffs, where he championed projects offering opportunities for job creation, economic development, and social services for the less fortunate.

YJ Draiman lives in Northridge and is married to Miriam Draiman. They have two sons, David who is a professional singer with a popular rock band Disturbed and Benjamin who is a clinical researcher as well as vocalist/musician.
**************************************************************
YJ Draiman for Mayor of Los Angeles 2017

Dear Los Angelenos;

I am running for Mayor to get Los Angeles back to the thriving and robust city it should be. The present administration DOES NOT serve the best interest of the people of Los Angeles.
During this time of great urgency, I will focus every day on bringing innovative solutions to the economic crisis that is holding our city back -- solutions such as retaining and bringing businesses to the city, fiscal responsibility which will reduce the financial burden on taxpayers; transparency, make Los Angeles the city that works, protect core city services; and make our neighborhoods stronger, safer, and attractive to jobs and businesses.
It is time to restore honesty, integrity, accountability and transparency in government. It is time to put our differences aside, and put an end to special interests which only serve the few. It is time for City Hall to serve the best interests of all the people of this once great city.
We all know these tough economic conditions are affecting our city greatly. I believe in a coordinated effort and I believe in the people of this great city. I plan on working together with the people of this city. As a cohesive force, we will transform our city into the most dynamic place in the nation.
My vision for Los Angeles is to make LA the World Capital of Renewable Energy, Energy Efficiency & Water Conservation.
Today's economic crisis is of utmost concern for all Americans. In these hard economic times, we must unify as a cohesive force to address the need for more jobs, better housing, a healthcare system which works for all; and most importantly, to stop the deterioration of the educational system which is depriving our children of the necessary tools for their, and our future.
I am now asking for your help to transform all of Los Angeles. Please view my website (http://yjdraimanformayor.org) and sign up for the latest updates, connect with me on Facebook and Twitter, and ask any question or concern and I will respond.
I look forward to working with all the people to get Los Angeles back to the status it deserves.
Sincerely,
YJ Draiman



*******************************************************************************************************************************************************

City of Los Angeles Boundaries
Includes 95 Neighborhood Councils
2010 population estimate (rank): 3,744,829 (2)
Land area: 469 sq mi. (1,215 sq km); Alt.: Highest, 5,081 ft.; lowest, sea level
Endorsements and Volunteers: To endorse my candidacy or volunteer, please contact me at: yjdraimanformayor@yjdraiman.org
To donate: Please go to http://yjdraimanformayor.org and print the complete contribution form. This information is required by California state laws for all contributions. We are prohibited from depositing any checks without this information.
Please make checks payable to: YJ DRAIMAN FOR MAYOR 2013 Mail to: YJ Draiman for Mayor 9420 Reseda Blvd., Unit 274, Northridge, CA 91324