DRAIMAN FAMILY

My wife: of 45 years Miriam Draiman.
My son: David Michael Draiman (born March 1973) is a songwriter and the lead singer for the metal band Disturbed, from Chicago, Illinois. Draiman is known for his distorted voice and rhythmic singing style. Draiman is ranked number 10 on the Top 100 Metal Vocalists Of All Time and a remake of The Sound of Silence!
https://www.youtube.com/watch?v=Bk7RVw3I8eg
My son: Benjamin Gabriel Draiman conducts clinical research for Columbia University - Plays piano and sings.



Miriam, Benjamin, David and YJ Draiman



YJ Draiman and Wife Miriam



Miriam, David and YJ Draiman



Ben Draiman and David Draiman



David Draiman


EXPERIENCE

YJ Draiman

A dedicated family man with an extensive business background including but not limited to mechanical engineer, healthcare administrator, real estate developer of neighborhood rehabilitation, project manager of a major 5 star hotel construction, operator of a chain of retail electronic stores, reseller of deregulated energy sources, energy efficiency implementation, utility audits and consulting services.

I have over 25 years experience in energy efficiency. I am a strong proponent of Energy Independence. I care about the community and feel there are many issues that need to be addressed. Housing issues, Jobs and Education are a priority.

Current Fourth term Elected Member of the Northridge East Community Council and a Member of Northridge Vision Committee.



YJ Draiman for Mayor of Los Angeles - 2017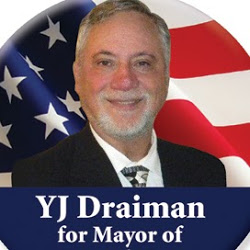 Los Angeles 2017

YJ Draiman believes in principles and integrity over profit and personal gain